Where to get Passport Photos Cheap
Passport photos are a crucial component of your travel documentation. Passport photos enable easy recognition and matching of individuals to their passports through visual identification. These photos are required for various purposes, including applying for or renewing passports, visas, and other official identification documents. The specifications for passport photos are standardized to ensure consistency across countries and meet security requirements.
Traditionally, most people would visit their local photography studios or post offices to have their passport photos taken. These establishments have specialized equipment and trained professionals who can capture your photo according to the required specifications. They usually have a dedicated area set up specifically for passport photos, ensuring that the lighting, background, and other factors are suitable for official documentation.
First, the cost of getting passport photos from a photography studio or post office can be quite high. You may end up paying a premium for the service, especially if you need multiple copies or additional services such as expedited processing.Last, the availability of traditional passport photo services may vary depending on your location. In rural areas or smaller towns, finding a reliable and convenient place to get your passport photos can be challenging.
Online Options for Cheap Passport Photos
With advancements in technology and the rise of e-commerce, getting passport photos online has become a popular alternative to traditional methods. Online services offer convenience, affordability, and a wider range of options for obtaining passport photos.
There are several online platforms and websites that specialize in providing passport photos. These services typically allow you to upload your own photo or take a photo using your smartphone or webcam. The platform then guides you through the process of adjusting the photo to meet the required specifications, such as size, background color, and head position. Once you are satisfied with the result, you can proceed with placing an order for printed copies of your passport photos.
Comparison of Online Passport Photo Services
When it comes to online passport photo services, there are numerous options available. To help you choose the best one for your needs, let's compare some of the top providers.
1. PassportPhotoNow.com: This platform offers a user-friendly interface and allows you to upload your own photo or take a new one using your smartphone or webcam. They provide a variety of options for customization, including background color, size, and even retouching services. Their prices are competitive, and they offer fast printing and delivery options.
2. iVisa.com: iVisa.com is known for its simplicity and efficiency. They offer a straightforward process for uploading your photo and provide a step-by-step guide to ensure that your photo meets the required specifications. They also offer express delivery options, making them a great choice for last-minute passport photo needs.
3. Visafoto.com: Visafoto.com focuses on providing high-quality passport photos that comply with the latest government requirements. Their website offers a simple and intuitive interface, allowing you to upload your photo and customize it according to your needs. They also provide various delivery options, including digital copies, prints, and even the option to pick up your photos from a local store.
Delivery Options for Online Passport Photos.
Once you have taken or uploaded your passport photo on an online platform, you will need to decide how you want to receive the printed copies. Most online passport photo services offer various printing and delivery options to cater to different preferences and needs. The most common options include:
1. Home delivery: The printed copies of your passport photos will be shipped directly to your doorstep. This option is convenient and suitable for those who prefer to have physical copies on hand.
2. Pickup at a local store: Some online services have partnerships with local stores, such as pharmacies or printing shops, where you can pick up your printed passport photos. This option is ideal for those who want to avoid additional shipping fees or have an urgent need for their photos.
3. Digital delivery: Instead of receiving physical copies, you can opt for digital delivery. The online platform will provide you with a digital copy of your passport photos, which you can print at home or at a local printing shop.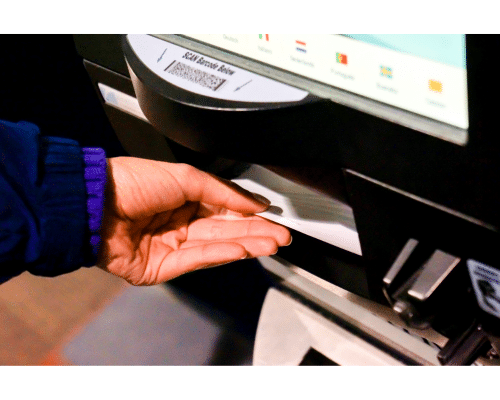 Additional Services Offered by Online Passport Photo Providers
Online passport photo services have more to offer than just cheap prices. These services may include:
1. Photo retouching: Some platforms offer retouching services to ensure that your photo meets the required quality standards. They can adjust the brightness, contrast, and other aspects of your photo to enhance its overall appearance.
2. Photo resizing: If you have an existing photo that does not meet the required size specifications, some online services can resize it for you. This eliminates the need to retake the photo and ensures that you can use your favorite picture for your passport.
3. Passport application assistance: Certain online platforms provide guidance and assistance with the passport application process. They can help you fill out the necessary forms and ensure that all the required documents are in order.
Cost Savings and Time Benefits of Using Online Services
Using online services for passport photos can result in significant cost savings and time benefits. Compared to traditional methods, online platforms often offer lower prices, especially when ordering multiple copies. Additionally, they eliminate the need for travel and waiting time, as you can conveniently upload your photo from the comfort of your home. Online platforms make printing and delivery more convenient and efficient.
Conclusion: Choose the Best Option for Your Passport Photo Needs
In conclusion, getting cheap passport photos without compromising on quality is entirely possible. Online passport photo services save time and money and ensure your photos meet the requirements. Whether you choose to use an online platform or take your own passport photo at home, following the guidelines and tips provided in this article will help you obtain high-quality passport photos that are suitable for official documentation. So, say goodbye to expensive photography studios and long waiting times and choose the best option that suits your needs.